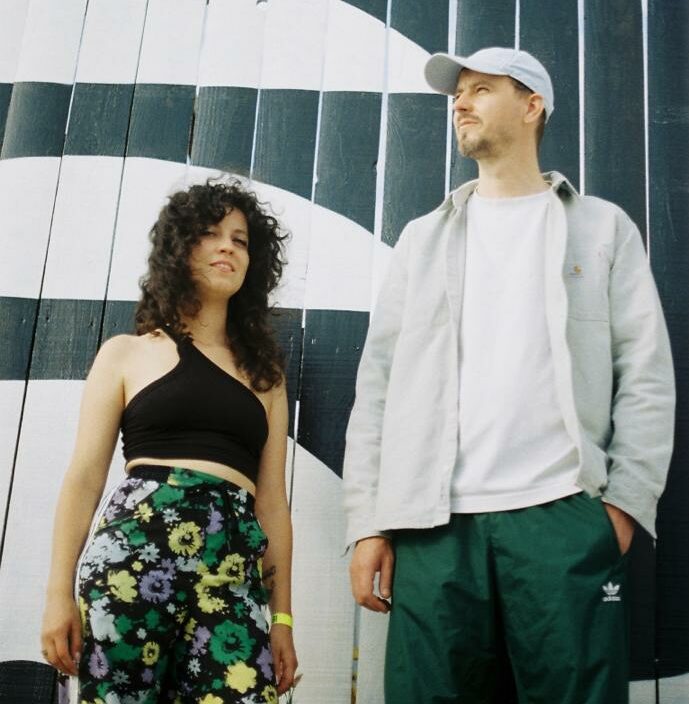 A duo of creative atoms fuelled by soul, hip hop and electro, J-Silk carves out a
hybrid and composite music. A luminous artistic path between France and England
called Future Soul.

For the past three years, J-Silk have been sucked into the dynamics of their first
two well-received and supported EPs, and this time they have given themselves
some time. Time to write and compose Dreaming Awake.

In 2022, the duo has turned a corner. Dreaming Awake, leads them on Arte
Concert, at the Francos, Mama Festival, Printemps de Bourges... J-Silk also opened for General Elektriks in 2022 and 2023.
Line Up
Joanna Rives : Singer
Louis Morgan : Bass & keyboards
In a Flower Power spirit, J-Silk, the trio from Bordeaux is offering us a riff mixing soul, electro and pop, in which the bassist Louis Gaffney and the drummer Didier Bassan are transported by the mind blowing voice of Joanna Rives.
Le Figaro
In line with James Blake, Anderson Paak or The Internet, J-Silk enjoys picking up ideas from different universes and breaking musical barriers.
Arte
- 22, 23, 24 & 25/07/2022 - Heineken Jazzaldia - San Sebastian
- 02/07/2022 - Scène d'été - Chaumont - 1ère partie Lehmanns Brothers
- 29/06/2022 - Papa Cabane - French VIP by Home - Paris
- 04/06/2022 - IBOAT - Bordeaux - 1ère partie Chrystabell
- 24/05/2022 - Krakatoa - Mérignac - 1ère partie Morcheeba
- 23/03/2022 – La Rodia – Besançon - 1ère partie Curtis Harding
- 11/03/2022 – La Nef – Angouleme – 1ère partie Général Elektriks
- 03/12/2021 – Les Bars en Trans - Nantes
- 27/11/2021 – Le Rocher de Palmer – Cenon – 1ère partie Général Elektriks
- 26/11/2021 – Le Bikini – Toulouse – 1ère partie Général Elektriks
- 25/11/2021 – Le Paloma – Nimes – 1ère partie Général Elektriks
- 23/11/2021 – Résidence Le Rocher de Palmer – Cenon
- 22/11/2021 – Résidence Le Rocher de Palmer – Cenon
- 12/11/2021 – VIP – Saint-Nazaire – 1ère partie Altin Gun
- 13/10/2021 – Mama Festival – La Boule Noire – Paris
- 16/09/2021 – Les Trois Baudets – Paris
- 23/07/2021 – Festival Jardin Sonore – Vitrolles
- 13/07/2021 – Festival Les Francofolies – La Rochelle
- 24/06/2021 – Festival Le Printemps de Bourges – Bourges
- 03/02/2020 - Rocher de Palmer - Cenon - 1ère partie Moonchild
- 10/10/2020 - Pop Up - Paris - 1ère partie de Laura Misch
- 20/03/2019 - Pop Up - Paris - 1ère partie de Poppy Ajudha