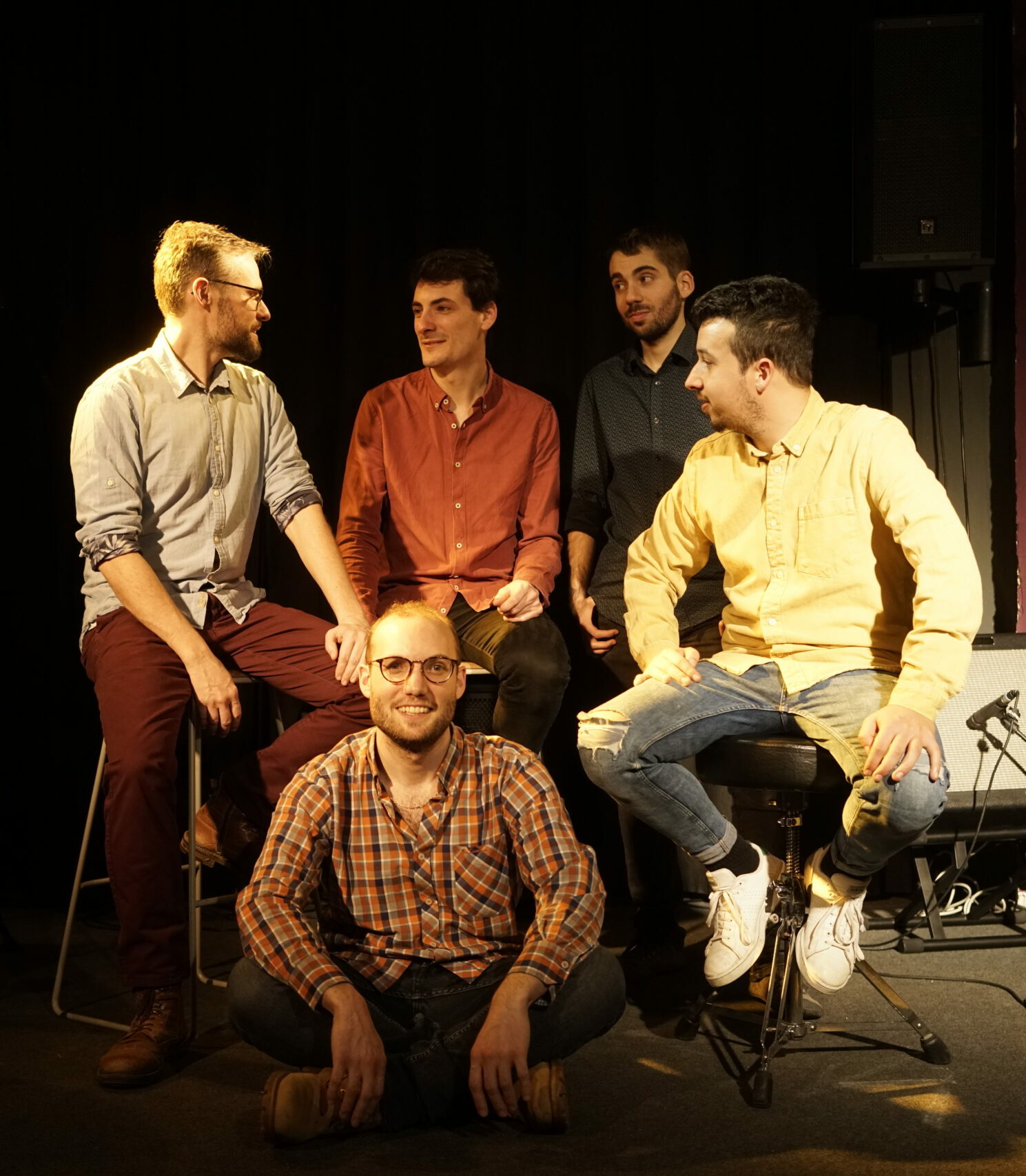 Robin Jolivet (guitar) and Jérôme Mascotto (saxophone) met in 2015 at Bordeaux-Jacques Thibaud Conservatory. It was a great time to share inspiration and work together in different styles of music.
A few years later, Robin decides to found the guitar-sax duet Robin & The Woods. The two musicians create a spontaneous and lyrical rock jazz music, inspired by progressive rock from the 70's (King Crimson, Mike Oldfield, Pink Floyd) and modern jazz (EST, Pat Metheny, John Hollenbeck, Donny McCaslin).
The songs evolve between dense writing and refined style, leaving a large part to improvisation. Through a repertoire of compositions and covers, the duo strives to offer a music sensitive to poetic imagination.
In autumn 2017, the group develops a new dimension with the formation of a quintet. The original pieces of the duet are rewritten in a resolutely rock-jazz style. Robin & The Woods quintet version consists of two original musicians, alongside which we find Alexandre Aguilera (flute), Alexis Cadeillan (bass) and Nicolas Girardi (drums).
In January 2018, the band won the Grand Prix of Tremplin Action Jazz. The musicians also won the FIP Prize and Alexandre Aguilera the Coup de Coeur distinction for his performance.
Line Up
Robin Jolivet : Guitar
Jérôme Masco : Saxophon
Alexandre Aguilera : Flute
Alexis Cadeillan : Bass
Nicolas Girardi : Drums
Ils déclenchent à trois de front une musique aux rythmes appuyés, sonorités électriques, un continuum de ce que l'on dénomma «power trio» dans la lignée du défunt EST au début de ce siècle pour ce groupe bordelais boosté dans une ville qu'il adore par Patrick Duval, boss du Rocher de Palmer.
Jazz Magazine – Robert Latxague
"Focus", extrait de leur premier album Aurosmose, est un petit bijou sur lequel les trois compères ont tout l'espace nécessaire pour s'exprimer avec une délicatesse enragée et clore divinement un set mirobolant.
Eclats D'Email Jazz Festival – Alexandre Fournet
2022
- 07/07/2022 - Gradignan (33) - Jeudi musical à Laurenzanne
- 04/04/2022 Bordeaux (33) - Festival des Moissons d'Avril
- 25/03/2022 - Bordeaux (33) - Les Fous Rires de Bordeaux
- 19/02/2022 - Lamothe-Landerron (33) - Sans Crier Gare
2021
-19/10/2021 - Bazas (33) - Le Polyèdre
- 01/10/2021 - Cenon (33) - Le Rocher de Palmer
- 18/06/2021 - Douchapt (24) - Des bouches et des oreilles (DB&DO)
- 29/05/2021 - En ligne - Salon Culture et Jeux Mathématiques
2020
- 21/08/2020 - Capbreton (40) - Festival Août of Jazz
- 14/05/2020 - Bordeaux (33) - Théâtre l'Inox
- 21/03/2020 - Orthez (64) - Festival Jazz Naturel
- 20/02/2020 - Bordeaux (33) - Théâtre l'Inox
- 01/02/2020 - Cénac (33) - Festival Jazz360
2019
- 06/12/2019 - Morizès (33) - Festival Trans'Musicale
- 23/11/2019 - Douchapt (24) - Des bouches et des oreilles (DB&DO)
- 28/09/2019 - Lamothe-Landerron (33) - La Grange
- 27/06/2019 - Bordeaux (33) - CIAM