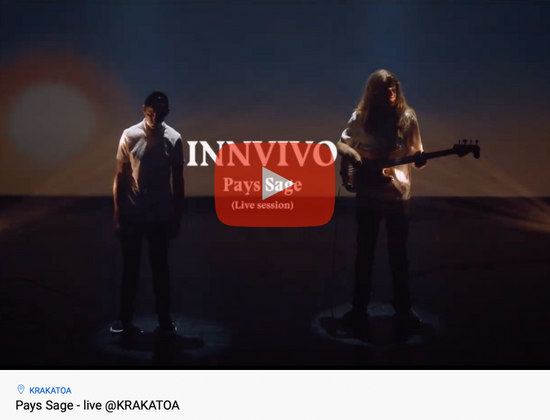 Innvivo – Live Session
Innvivo offers us a Live Session of the song Pays Sage !
Innvivo is the hip-hop jazz trio that Manag'art has been following for a while now. It is composed of Hugo Raducanu (voice, lyrics, percussions), Clément Laval (guitar, synth, voice) and Thomas Carretero (animated illustrations). 
They offer us a poetic pen marked by French song. To which they add the influence of the hiphop electronic music.
It is in this hybrid aesthetic, sometimes soaring and dreamlike, sometimes raging and energetic that INNVIVO offers a contemplative journey within the living.
At the beginning of the year they joined the Krakatoa incubator for the class of 2022. Krakatoa has set up an incubator to support the creation and professionalization of local artists. This accompaniment includes support for creation with residencies and help with pre-production of recordings in particular. Innvivo had the chance to do one of these residencies last April.
What a feeling to be able to announce that they are in full preparation of new titles and that these will be released in the months to come… To make us wait they realized a live capture of Pays Sage, extract of a track of their last EP of the same name (2019).