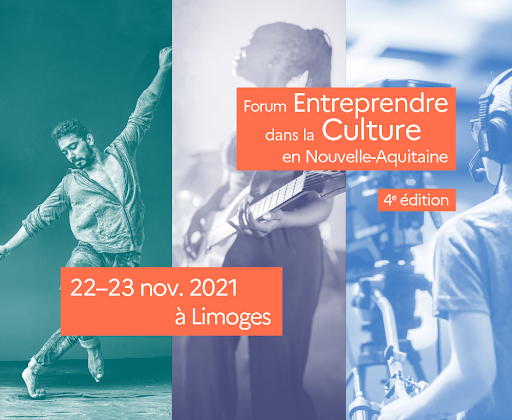 Manag'Art at Forum Entreprendre dans la Culture
Judyth will have the opportunity to participate in the 4th edition of the Forum Entreprendre dans la culture en Nouvelle-Aquitaine. It will take place in Limoges, on next November 22th and 23rd.
The Forum Entreprendre dans la Culture en Nouvelle-Aquitaine (it is a business forum on Cultural Sector). It was created in 2015 by the Ministry of Culture and is now organized everywhere in France. It aims to promote and support cultural entrepreneurship, as well as provide key elements to all the stakeholders. Stake holders like business owners, local authorities and project leaders helping them to have a better understanding of the sector.
Thus, exchanges and meetings will be organized throughout the event. It is in this context and because Judyth is the founder of Manag'Art and MEWEM mentee, that she will speak. As a reminder, MEWEM is a mentoring program for women in music industry.
Program
So, on 22 November, from 4 pm to 5:30 pm, Judyth will participate in a round table moderated by the A . This round table will take place after a workshop hosted by the ARACT (the regional organisation for improving working conditions). It will be centered around the issues of cultural diversity and gender inequality in professional world. This round table will have the goal to put a spotlight on people who defy statistics. Aurore Claverie, the director of the Métive, a place for creative residency in Moutier d'Ahun (Creuse), Anthony Thibault, artistic director of La Nuit te soupire theatre company (Vienne) and co-initiator of the Jeunes textes en Liberté label, Axel Morel, temporary deputy director of culture and heritage of the Nouvelle-Aquitaine region and Sophie Raix, department delegate for women rights and equality of Haute-Vienne will be the other speakers.
For more information and to explore the full program of the event, please visit the Forum Entreprendre dans la Culture en Nouvelle-Aquitaine's website.